I am trying to save a little more money and waste less food around here. Normally I will just throw out strawberries that are looking a little past their prime.

We love pancakes and crepes at our house. We also love to put strawberries on those two things, so I decided to save the strawberries.

Here is how I did it.

Cut all strawberries and slice into thin pieces. Sprinkle about 2 T. of sugar and 1/2 t. vanilla over the top.

Mix!

Let sit 10 min and let the juices begin to form.

I then took half of my strawberries, placed them in the blender with a Tablespoon of milk to form a syrup. Then I added the syrup back with the strawberries, mixed it well and then placed into freezer bags.

Next time, you should give it a try.



Linking up with
Funky Junky Interiors
at her Saturday Night Special Party.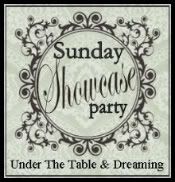 Cravings Fulfilled,
Tamber